Like all traditional and popular recipes, cappelletti also has many variations, and pretending to codify one as "true" would be presumptuous, as well as unfounded. So here we offer you a version among the many cappelletti , which elsewhere become, with few variations, tortellini and anolini .
First, the stuffing . In this recipe it is cooked with three roasts: veal , pork and capon . They are cooked in chunks and not too long – say 15 minutes – in butter. Some versions include onion which can be a bit heavy, so we chose the middle way.
According to tradition, the dough is rolled out with a rolling pin, but your cappelletti in broth will be very tasty even if you use a dough sheeter.
to prepare the cappelletti in broth, start with the filling. With a sharp knife, extract the meat from the capon by removing the carcass and skin (you can keep them for the broth). Cut the pulp into cubes and proceed in the same way with the veal and pork. Brown them in a hot pan together with the butter, turning them often with a spatula until they have taken slightly color.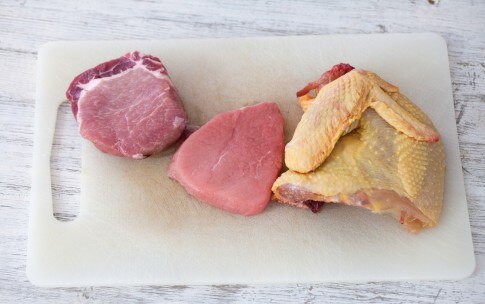 Turn off, season with salt and pepper. Chop the still warm meat in the mixer together with the grated Parmesan cheese. Also add the egg and whisk until a homogeneous mixture.
If possible, rest the filling in the refrigerator for 1 night, covering with plastic wrap (optional, but recommended). If you intend to use it immediately, put it in the refrigerator until you need it. Prepare the pasta: in a bowl, or on a pastry board, mix the two flours together with the eggs.
You will need to obtain a smooth and elastic paste which you will wrap in plastic wrap and let it rest at room temperature for at least 30 minutes. After this time, roll out the dough according to the method you prefer: on the pastry board just floured with a rolling pin or with the special dough sheeter.
With a cutter wheel, make squares 4 cm long. Place a small amount of dough in the center. Now close them like this: fold each triangle square keeping the vertex towards the horizon. Weld the flaps by pressing with your fingers. Take the two lower vertices between the index fingers of the two hands, slide the dough around the finger so that the opposite vertex stretches and rises and closes well without exaggerating checking that the cap does not drape too much. Arrange them gradually on a well floured tray.
Dip the cappelletti in the hot broth and withdraw them according to the preferred degree of cooking by transferring them to the holsters. Serve immediately.
Preparation: 20 min - Recipe: Easy

A popular recipe of which there are numerous variations . Establishing what the 'real' recipe is is an impossible task, as well as not very useful. We promote differences from province to province and, sometimes, from family to family and we offer you our version.
Ingredients for the filling
200 g pork fillet
200 g of veal pulp
1/4 capon
200 g of Parmigiano Reggiano
salt
Pepper
Ingredients for the pastry
6 whole eggs
2 yolks
300 g 00 flour
300 g type 2 flour
For the broth
| | |
| --- | --- |
| RECIPE EXECUTION | BINDING </ strong> |
| PREPARATION | 2H |
| COOKING | 15 MIN – 30 MIN |
| PORTIONS | 8 PORTIONS |